Tara's Hobbies
When I am not doing mathematics, chances are I am doing some subset of hanging out with my kids, dancing, cooking, and playing or listening to music (and usually it's mostly the first!).
---
Dancing
I started dancing frequently during graduate school. My first week at MIT, I discovered Tech Squares, the MIT square and round dancing club. I was hooked, and danced three to four nights a week with various Tech Squares groups for five years.

After a few years of square dancing, I also started to contra dance in Boston. There is a great dance at the VFW in Cambridge and great dances at the Scout House in Concord. There is a web site with Contradance information in the greater Boston area.

When I moved to Berkeley, I discovered Irish dancing at the Starry Plough Pub. There are lessons (beginner through advanced), followed by a Ceili Dance, on Monday nights. After dancing there for eight months, I decided that one night of Irish wasn't enough. So I have been taking step dancing classes at the McBride School of Dance.
---
Cooking
I have always liked to cook (and to eat!). When I lived off campus as an undergraduate, I started to cook for myself. In those days, I was really into baking more than anything. I particularly liked to bake pies. I spent several summers in Duluth, MN, and baked a lot of pies and challah there.

During graduate school, I spent a lot of time cooking with my housemates. I even took a week off one January, and cooked solidly, hosting ten to twelve friends each night for a five course meal. That was the beginning of my temptation to leave math for cooking. So if you know of any openings in good kitchens ....

When I finished graduate school, my wonderful brother and his partner sent me to cooking school for two days. What a wonderful welcome to San Francisco! I attended a bread-baking course at Tante Marie's Cooking School. I have learned a lot by sitting at the counter watching the chefs at Gregoire's around the corner from my apartment. Most recently, I spent a lovely week learning how to cook Thai food in Kasma's kitchen in Oakland. It was fabulous!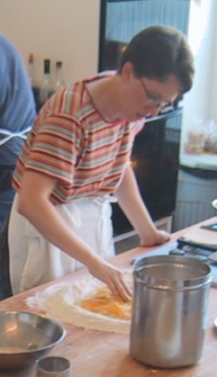 ---
Music
I started playing music and singing when I was a small child. I first learned to play the flute, and played in a small chamber orchestra during high school. I also sang in my school's choirs and in a regional chorus.
In college, I joined the Dartmouth College Marching Band , the Dartmouth College Wind Symphony, and the Dartmouth College Chamber Singers. In the marching band, the flute isn't so well heard, so I took up the trombone, much more fun! And I started to play some percussion as well.
During graduate school, I continued to sing in the MIT Concert Choir and the MIT Chamber chorus. At Berkeley, I sang for one year in the UC Chorus. I also attend the Irish music session at the Starry Plough Pub, and have been known to sing there on occasion. Every now and then, I go to the San Francisco Ballet, the San Francisco Symphony, and the San Francisco Opera. I also go to the Chantey Sing and the Sea Music concerts at the San Francisco Maritime National Park.
---
Copyright �2000 Tara S. Holm