Research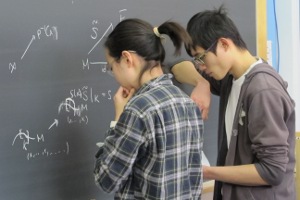 Cornell has a tradition of strength in a wide range of research areas of mathematics, pure and applied. The department offers a rich research environment for its students and faculty and strives to be at the forefront of current mathematical research.
Visit the pages linked below to learn more about our research groups and their activities. Faculty typically belong to more than one group. The department embraces a unified view of mathematics and encourages interactions between different areas.
Research Opportunities for Undergraduates
The department has offered a summer research program for undergraduates since 1994. Formerly an REU and now called SPUR, the 8-week program brings talented students here from across the country to work on research projects directed by Cornell faculty members. It is open to all students currently enrolled in an undergraduate program.
Cornell mathematics majors have the opportunity to write a senior thesis based on independent research conducted with a faculty member on an advanced topic.
Research Training Groups (RTGs)
This NSF supported Research Training Group at Cornell University (DMS-1645643) provides research training at the nexus of dynamics, probability, and PDEs. Two themes are emphasized: the interplay between theory and applications, and the importance of communicating mathematical ideas across fields and to diverse audiences.