Monodromy Automorphism 001x100 by Karl Papadantonakis and Jodn Hubbard
The first loop whose associated monodromy automorphism is convincing.
---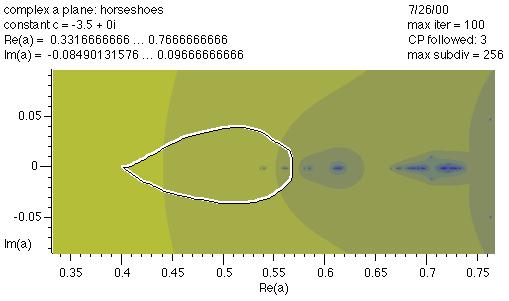 This loop, to depth 10, appears to give the automorphism 001x100. It exists in the slice c=-3.5, and DOES NOT appear to exist in the slice c=-3, where some other bifurcation (the 101x1 bifurcation) appears to have collided with the tip of this one.
pictoral representation of the automorphism: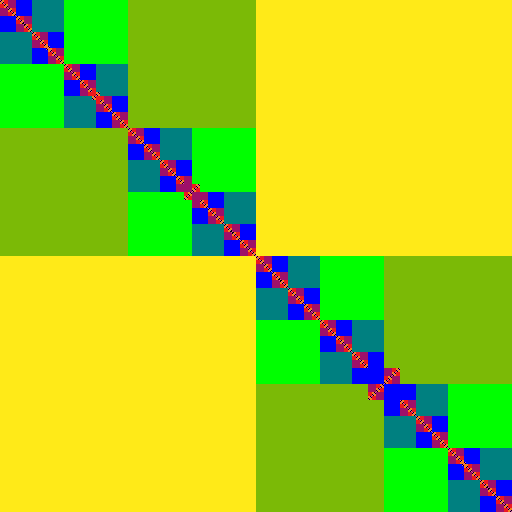 The following tables give the permutation on the critical points down to depth 10; the labelling is by itinerary.
Level 5
0.11100     0.10100      *
0.10100     0.11100      *

Level 6
0.011100    0.010100     *
0.010100    0.011100     *
0.111001    0.101001     *
0.111000    0.101000     *
0.101000    0.111000     *
0.101001    0.111001     *

Level 7
0.0011100   0.0010100    *
0.0010100   0.0011100    *
0.0111001   0.0101001    *
0.0111000   0.0101000    *
0.0101000   0.0111000    *
0.0101001   0.0111001    *
0.1110010   0.1010010    *
0.1110011   0.1010011    *
0.1110001   0.1010001    *
0.1110000   0.1010000    *
0.1010000   0.1110000    *
0.1010001   0.1110001    *
0.1010011   0.1110011    *
0.1010010   0.1110010    *

Level 8
0.00011100  0.00010100   *
0.00010100  0.00011100   *
0.00111001  0.00101001   *
0.00111000  0.00101000   *
0.00101000  0.00111000   *
0.00101001  0.00111001   *
0.01110010  0.01010010   *
0.01110011  0.01010011   *
0.01110001  0.01010001   *
0.01110000  0.01010000   *
0.01010000  0.01110000   *
0.01010001  0.01110001   *
0.01010011  0.01110011   *
0.01010010  0.01110010   *
0.11100100  0.10100100   *
0.11100101  0.10100101   *
0.11100111  0.10100111   *
0.11100110  0.10100110   *
0.11100010  0.10100010   *
0.11100011  0.10100011   *
0.11100001  0.10100001   *
0.11100000  0.10100000   *
0.10100000  0.11100000   *
0.10100001  0.11100001   *
0.10100011  0.11100011   *
0.10100010  0.11100010   *
0.10100110  0.11100110   *
0.10100111  0.11100111   *
0.10100101  0.11100101   *
0.10100100  0.11100100   *
0.10010100  0.10011100   *
0.10011100  0.10010100   *


Levels 9 and 10 (with annotation)



---