About me

Email: danhl at math dot columbia dot edu

I am currently a Ritt assistant professor at Columbia University. Previously I was an NSF Post Doc at Columbia and a member in mathematics at the Institute for Advanced Study. I completed my PhD at UC Berkeley. In my undergraduate studies at Princeton University, I focused on math and physics.

Here's my CV, last updated August 2016.

My primary research focuses on a cluster of related projects and ideas which I have labeled "beyond geometric invariant theory." Geometric invariant theory (GIT) is a well-studied and successful tool for constructing moduli spaces in algebraic geometry. But it does more than that. It is a framework for understanding the (equivariant) geometry of algebraic varieties with a reductive group action. The "beyond GIT" project attempts to expand geometric invariant theory in two ways: 1) to use the ideas of GIT to understand the structure of derived categories of equivariant coherent sheaves, which in turn leads to new results in classical equivariant topology and geometry, and 2) to expand the methods of GIT to apply to general moduli problems.
Spring 2017 Teaching
This semester I will be teaching Math UN2500 - Analysis and Optimization. The syllabus is here, but the primary mode of communication will be through the piazza page.
Schedule:
Previous:
Beyond geometric invariant theory
One of the great challenges of research mathematics is effectively communicating mathematical ideas. I'm experimenting with a concept map describing the "beyond GIT" project (click to interact).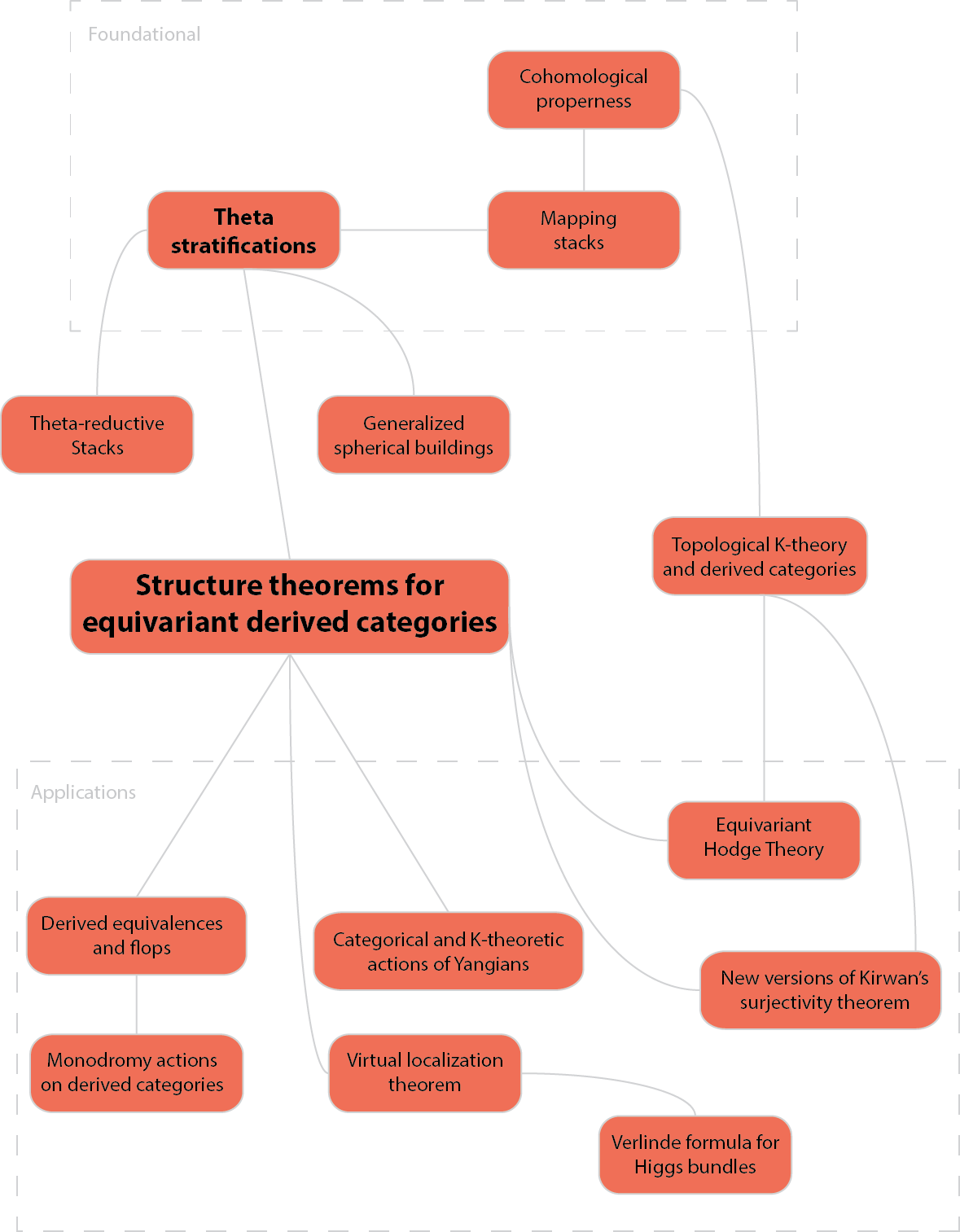 Talks and expository papers on Beyond GIT
Working papers
These form the backbone of the Beyond GIT project. While they are currently complete papers, I have decided to edit and expand them. I will keep the most up-to-date versions here.
My PhD thesis included chapters that became the papers "The derived category of a GIT quotient," "Autoequivalences of derived categories and variation of GIT quotient," and "On the structure of instability in moduli theory."
As an undergraduate I thought about algebraic approaches to information theory. Here is a primer on my undergraduate work (Last update 4/30/08)